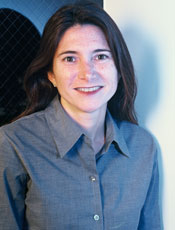 Nina Ebert Labatt
Ms. Labatt is Chief Financial Officer for Labrador Ventures, where she is responsible for financial management and reporting, operations and human resources. She currently serves on the board of VCBC, the industry association for venture capital finance professionals.

Before joining Labrador Ventures, Ms. Labatt spent 6 years at Goldman Sachs in New York where she worked in various departments of the investment banking division, including Corporate Finance, Mergers and Acquisitions, Capital Markets, and Principal Investing. She spent one additional year in Corporate Finance with Montgomery Securities before moving into operations management for Nice Ventures where she was CFO, PeoplePC where she was Director of Operations, and Saints Ventures where she was a Managing Director and CFO.

Ms. Labatt received her Bachelor's Degree in Economics with Honors and her Master's Degree in International Policy Studies from Stanford University (1989). She received her MBA from Harvard Business School (1993).